A city which is more accessible, more pleasant and safer… Make public areas becoming user friendly and connected, places that citizens appropriate, naturally… Have a look to our Smart-in-Site range: complete smart lighting solutions for smart cities.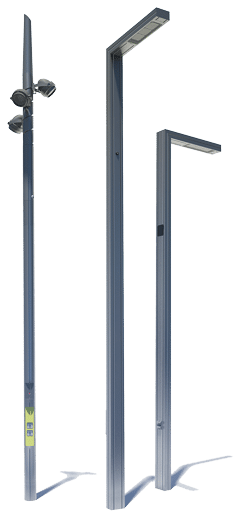 Smart-In-Site by Technilum® makes these aspirations come true. Beyond lighting, Technilum® indeed developed a complete range of smart services, perfectly integrated to lighting furniture.
Let's imagine together the city of tomorrow!
Safety: Video-surveillance, Emergency call, Video-fining, Warning signal…
Broadcasting: Speakers for local or traffic information, Environmental alert, Broadcasting, Advertising…
Services: Parking assistance, Battery charger for electrical vehicles, Concierge services, USB outlet…
The + by Technilum
Perfect integration of the devices.
Numerous features in one unique structure, minimizing the congestion of public space and increasing the aesthetic continuity of the space.
Open-source, non proprietary systems.
Installation, adjustment and maintenance made easier.
Lighting management system, able to adjust the lighting level, automatically or in reaction to a specific scenario (through occupancy sensor for example).

Find the lighting furnitures compatible with Smart-in-Site services!