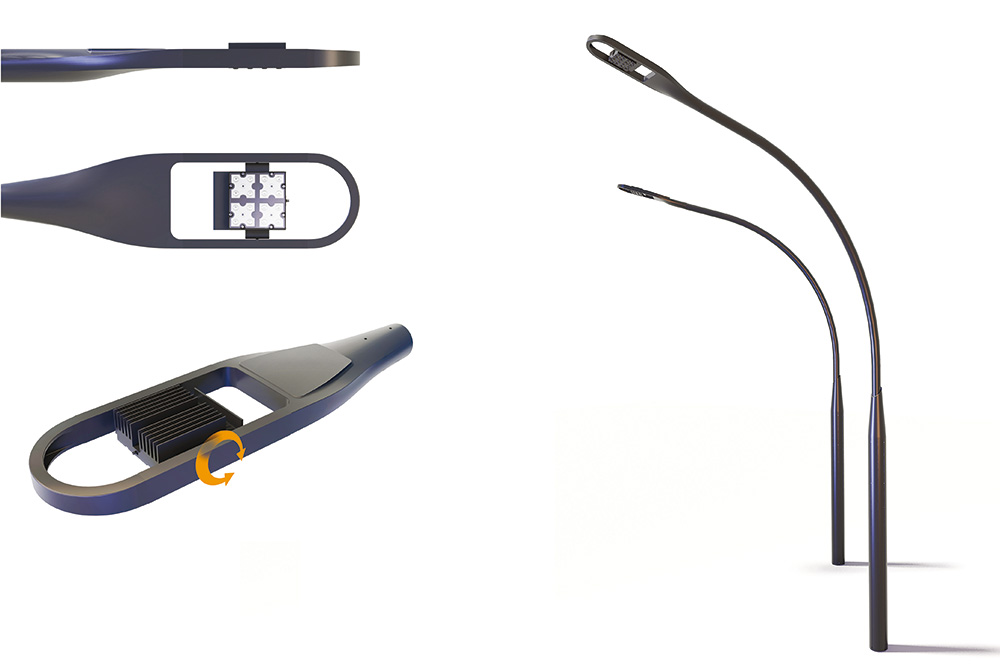 Bamboo lighting structure enjoys a timeless, adjustable, soaring curve. It is equipped with E.L.F.E. [Eco-designed Light Flexible Elegant]luminaire, with rotating LEDs module(s), allowing a perfect adaptation to any types of configurations.Download data sheet
Height from 3.5 to 5 m (from 11′ 5 51/64″ to 16′ 4 27⁄32″)
Technical data
Specific aluminum profile (⌀ 140 mm) with internal functional structure.
Mast profile: Structure C+
Profile dimension: ⌀ 140 mm
Access door manufactured in a specific aluminum profile. Interchangeable, flush. Opening 500×90 mm (19 11/16″ x 3 9/16″) at 600 mm (23 5/8″) from the base (other height on demand). Locked with tamper-proof screw.
Baseplate made of die-cast aluminum. Insulating rings on the 4 anchoring oblongs to avoid any contact with galvanized steel bolts. Construction entirely weld-free to eliminate weakness point: the connection pole/base plate is realized thanks to a two-part epoxy adhesive. Download here the full specifications
Curved aluminum bracket (⌀ 70 mm)
Number of arms: 1
Polyester powder coating: more than 200 colors available, plus special finish. Natural anodization available.
Source: LED
Luminaire made of die-cast aluminum, with 1 or 2 LEDs modules, adjustable and rotating. Download the technical data sheet
Module type: E.L.F.E.
Luminaire dimension: 748×200 mm / module(s) LEDs : 120×120 mm
Power: 16 W, 33 W
Outgoing flow: 2385-4480 lm (3000°K)
Color temperature: 2200, 2700, 3000, 4000°K
CRI >70 (>80 possible)
Optic: Asymmetrical medium, Symmetrical
Protection: IP66 / IK05
Class: 1 (2 possible)
Programmable, dimmable (DALI or 0-10 V) or not dimmable
Linked project(s)
Seaside Promenade, Hyères
Promenade du Paillon, Nice
Contact
Need more info ?
Feel free to contact us if you have any question.